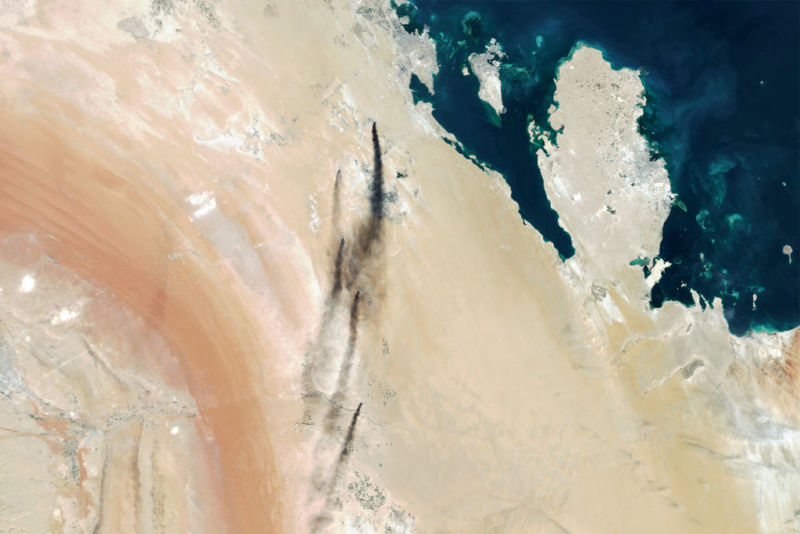 The US government has stopped short of officially blaming Iran for launching drones and cruise missiles against Saudi Arabian oil production facilities. But Secretary of State Mike Pompeo and Secretary of Defense Mark Esper have signaled that Iran is at least complicit in the September 14 strike that took out, at least temporarily, about 5% of global oil production capability. Secretary of State Mike Pompeo came close to directly blaming Iran in a post to Twitter on Saturday:
Tehran is behind nearly 100 attacks on Saudi Arabia while Rouhani and Zarif pretend to engage in diplomacy. Amid all the calls for de-escalation, Iran has now launched an unprecedented attack on the world's energy supply. There is no evidence the attacks came from Yemen.

— Secretary Pompeo (@SecPompeo) September 14, 2019
While the mix of weapons involved and where they came from is still in dispute, this would hardly be the first time the Houthi "anti-Saudi resistance militia" used cruise missiles or drones for an attack on Saudi civilian targets. For the last four years, the Houthi forces in Yemen have used a mixture of missiles and drones seized from the Yemeni military and—based on forensic evidence from downed missiles and drones—provided by Iran.
Ballistic missile attacks by the Houthis—using old Soviet "Scud" short-range ballistic missiles and Iranian-built "Scud" clones—have gotten the most media attention in the past. After an attack on Riyadh's airport in 2017, US State and Defense officials accused Iran of violating UN sanctions against export of ballistic-missile technology, displaying pieces of missiles and drones used in attacks.
Read 7 remaining paragraphs | Comments