Computer-Aided Design has drastically improved the speed and the accuracy which we humans create systems with, at the point where it will be impossible to list an area in technology where the added-value brought by CAD is not exploited.
Following this revolution, Many CAD software are being refined and/or launched every day.
There is a variety of sectors where CAD implementation are so needed that there is not a day without a more specialized software is being released.
In this post, we will attempt to list the most Popular CAD software currently on the market.
Most popular CAD software
ArchiCAD
ArchiCAD is a CAD software by the company GraphicSoft. This software is focused on creating designs for Architecture. ArchiCAD is nearly a must-know software for Architects. "ARCHICAD was developed specifically to address the architect's desire for great design without compromising on practical needs. GRAPHISOFT ARCHICAD's innovative BIM solution helps you win more business while letting you concentrate on your core skill – creating inspiring designs" [ArchiCAD Brochure]
---
Autodesk inventor
Autodesk Inventor is a professional-grade software that provides engineers, architects, and designers with a comprehensive suite of tools to execute simplistic and complex projects. With Inventor, you can create 3D mechanical designs and handle the documentation for your projects. The features of Autodesk Inventor include:
A wide array of tools that can be used for parametric modeling, assembly modeling, and drawing creation.
Inventor is equipped with the tools you need for part simulation and handling stress analysis on mechanical models.
The latest inventor also serves as a building information modeling tool which means it offers collaborative features that support teams working on similar design projects.
The CAD software also delivers design automation to simplify the modeling task for beginners and helps more experienced users automate certain processes.
Read this post about AutoDesk inventor and its difference with AutoCAD.
---
AutoCAD
AutoCAD is one of the most popular CAD software out there. The most popular version of AutoCAD are:
AutoCAD
AutoCAD Architecture
AutoCAD Civil 3D
AutoCAD Electrical
AutoCAD LT
AutoCAD Map 3D
AutoCAD MEP
AutoCAD Plant 3D
AutoCAD LT is the version supporting 2D but not 3D, you can find more information about AutoCAD on AutoDesk site. If you want to know what AutoCAD can be used for, you will have one more post to read.
---
AutoDesk MAYA
MAYA is a 3D animation software. It helps you animate, model, simulate and render. This CAD software by AutoDesk is today one of the leading software in 3D animation allowing artists to create high-quality 3D charterers and scenes.
"Maya has really been know as the go-to app for 3D animators among the industry for its robust rigging and animation tools and its animator friendly workflow" [blog.digitaltutors.com]
---
AutoDesk 3DS MAX
3DS MAX is a 3D software for animation, modeling, simulation and rendering. Now you will wonder why AutoDesk went ahead and created 2 CAD software that do the same job, but 3DS MAX and MAYA and not identical. Not like MAYA, 3DS MAY is merely used in the film industry, because studios like to be able to create their own set of tools that can help them achieve their job much easier and that is done best on MAYA.
---
Alibre Design
Geomagic Design is a 3D digital mechanical design and fabrication solution that allow to model custom part that can be 3D printed afterward.
"The simplicity, power, and flexibility of Geomagic Design makes it the first tool I reach for in my role as a consulting mechanical design, development, and manufacturing engineer" [Lew Merrick, PE]
---
AutoDesk Alias
Alias is an industrial design software good for surface modeling. It provides sketching, modeling, surfacing, and visualization tools for industrial, product, and automotive design. This piece of Software is mainly used in the automotive industry and for product design.
Different version of Alias are:
Alias SpeedForm
Alias Surface
Alias AutoStudio
Alias Design
Alias Concept
---
AutoDesk Revit
Revit is a building and construction software. Its principal goal is to allow users (Architect) to build and visualize architectural designs, MEP and structural designs, and use thus is mainly used the construction industry. It is specialized in BIM (Building Information Modeling)
---
Bentley Microstation
"MicroStation is one of the leading 2D and 3D CAD and information modeling software explicitly created for the architecture, engineering, construction, and operation of utility systems, roads and rail, bridges, buildings, communications networks, water and wastewater networks, process plants, mining, and more" [MicroStation]
This is a software than compete with Revit while talking about BIM.
---
Blender CAD
The popularity of Blender is because of two things. The first is its expansive toolset and the second is that this software is a professional-grade CAD application that is completely free. With Blender, you can handle extensive engineering and design tasks, as well as, create animations using its set of tools. The features of Blender include:
Blender comes with extensive tools for modeling, rendering, sculpting, and rigging. These tools make it an excellent option for creating animations.
Blender 2.82 supports the use of simulations to develop realistic models for your animations. The end results of these simulations are professional grade.
Blender also offers video editing and VFX features such as motion tracking and composting which animators can take advantage of it.
---
BricsCAD
BricsCAD is a CAD software for sheet metal design and Building Information Modeling mainly. BricsCAD is currently offered in three editions: Classic, Pro, and Platinum.
| BricsCAD Classic | BricsCAD Pro | BricsCAD Platinum |
| --- | --- | --- |
| Powerful CAD functions | Powerful CAD functions | Powerful CAD functions |
| 2D constraints solving | 2D constraints solving | 2D constraints solving |
| Full support of LISP | Full support of LISP | Full support of LISP |
| Chapoo connectivity | Chapoo connectivity | Chapoo connectivity |
| – | Direct 3D modeling | Direct 3D modeling |
| – | Rendering, materials, and lighting | Rendering, materials, and lighting |
| – | VBA1 & BRX | VBA1 & BRX |
| – | 3D constraints solving | 3D constraints solving |
| – | BricsCAD Communicator 2 | BricsCAD Communicator 2 |
| – | – | 3D constraint creation |
| – | – | Design intent recognition |
| – | – | Assembly modeling |
| – | – | Sheet Metal |
| – | – | BIM |
| | | |
---
CATIA
CATIA is one of the leading design software specialized in 3D CAD product design. CATIA is proactively used in the Aerospace, Automotive, Machine Industry and Maritime Equipment Design niches.
---
DraftSight
Draftsight is a free CAD software by Dassault Systèmes looking and working just like AutoCAD. This free CAD software is a good free alternative to AutoCAD and is able to read DWG file (DWG is the main file extension AutoCAD uses).
---
FreeCAD
FreeCAD as its name, is a free parametric 3D modeler that allow you to easily work on a project back and fort, allowing you to come back and change paremeter of an already existing model. This software is mainly used for commercial parametric modeling. It is nicely suited for educator, programmer wanting to manipulate the software using scripts, experienced CAD users for parametric modeling and for hobbyist wanting just to build object for 3D printing.
---
Femap
Femap is a CAD software from the German company Siemens. It is the leader for advanced engineering finite element analysis.
Learn more about Femap.
---
Fusion 360
Fusion is a 3D CAD/CAM tool from AutoDesk connecting your entire product development process in a single cloud-based tool.
---
IronCAD
IronCAD provides designers with simplistic tools for professional design and animation projects. One of its major selling points is its ease of use and how easily users can go from 2D to 3D and finally the assembly process. Engineers and inventors can also use this CAD software to engineer products faster and speed up the go-to-market process.
IronCAD offers multiple tools for parametric modeling, animation, and scripting.
IronCAD ease of use features includes catalogs with predefined shapes which provide you with the foundation needed to simplify design tasks.
IronCAD also offers diverse design suites for different professionals. These suites include IronCAD for mechanical engineers, SimWise for simulation, IronCAD innovate among others.
---
Keyshot
KeyShot is one of the few animations and 3D modeling software that is supported by both Windows and Mac. This CAD software is equipped to deliver professional 3D renders, animations, and simplify the modeling or animation process. The features of KeyShot include:
As a relatively new CAD software, KeyShot supports a wide range of file formats to enable users to import projects from other interfaces and work on them using its design tools.
KeyShot delivers real-time rendering which allows designers to view ideas or prototypes in real-time as changes are made.
The CAD software provides an extensive material library consisting of over 700+ material presets.
---
Kompas 3D
When looking for an open-source CAD software built for mechanical design, part assembly, and 3D modeling, Kompas -3D may just be the best option for you. The CAD software offers users with professional-grade tools for surface modeling and top-down modeling. The features of this software include:
Kompas supports the use of Boolean operations for generating atypically shaped elements which speed up the design process.
Kompas provides the user with tools for editing flexible parts and complex assemblies.
---
Kubotek 3D
The Kubotek 3D software was built to provide beginners and pros with extensive design tools that simplify the task of creating 3D models, assembling, and animation. This CAD software is aimed at the manufacturing industry and it serves as a tool for prototyping and testing design concepts. The features of Kubotek 3D include:
An extensive library that enables users to quickly scale up design ideas using the models and templates within the library.
An intuitive user interface that supports the removal of faces and other entities from complex models without having to rely on the model's history.
Support for diverse CAD file formats which makes importing CAD models from any platform to the Kubotek interface possible.
---
LightWave 3D
This professional-grade CAD software offers designers with extensive VFX and animation tools to design projects. LightWave supports the animation and gaming community with a simplistic user-interface and features that simplify the animation and creative process when working with CAD. The features of LightWave 3D include:
Motion retargeting support using Microsoft Kinect which integrates realism into moving models. Thus, ensuring animations move in ways that accurately mimic real-time experiences.
Time-based sculpting which enables the user to view models or edits as they are made to the model.
LightWave offers multiple plugins to the user which extends the capabilities of this CAD software.
---
Modo
Modo enhances the basics of 3D modeling by providing its users with powerful and flexible modeling, texturing, scripting, and rendering tools to create 3D models. The CAD software bills itself as the fastest modeling software you could ever use. To back up this claim, Modo offers direct modeling procedures and MeshFusion Boolean toolsets that speed up the 3D modeling process. The features of this CAD software include:
Look-dev support for Unity which makes Modo an ally for designers in the gaming community.
Real-time visualization which ensures you can view designs as they're created or edited.
The option of customizing your tool kit by building a kit of special tools that fit the tour creative process and enhances the modeling work you do.
Modo provides support for Python and C++ through APIs. This ensures it can be integrated into your design and coding pipelines from other platforms.
MODO is the CAD software that bring a set of 3D modeling, animation, sculpting, effects and rendering in a powerful integrated package.
---
Moi3D
This CAD software was built with designers and artists as its major consumer base. To this end, Moi3D offers its users with polygon modeling tools, advanced Boolean functions, and a stylus pen-friendly interface to help designers quickly and easily create models. Moi3D intends to simplify 3D modeling by removing the complexities that come with working on other modeling platforms. The features of Moi3D include:
The software provides a polygon mesh export that generates professional-grade N-Gon polygon meshes from imported CAD NURBS models. This speeds up editing or assembly activities.
Moi3D supports the use of a stylus pen to sketch 2D drafts which can quickly be turned into 3D models.
---
MasterCAM X8
MasterCAM X8 is a CAD/CAM (Computer aided design/Computer Aided Manifacturing) application designed for both machinists and engineers. This CAD/CAM software is the program of choice among CNC programmers.
MasterCAM allows:
Full 3D live wireframe modeling.
Powerful surface modeling and editing.
Optional solid modeling.
Broad range of translators allowing you to open any CAD file.
Associative dimensioning, analysis, and more.
---
NX
NX is an advanced high end CAD/CAM/CAE software package developped for parametric and direct modeling, static, dynamic, thermal analysis and manifacturing.
You can learn more about NX at Siemen's website.
---
OpenSCAD
OpenSCAD is the best programmers 3D CAD modeler. This CAD software is a free CAD software you might be looking for when you are planning to create 3D models of machine parts but would not be what you are looking for if you are more interested in creating computer-animated movies.
---
PTC Creo Elements
PTC creo Elements/Direct Modeling Express is said to be a good 3D CAD software created for product design with short design cycles and thus making it the ideal tool for short-series production runs.
The family PTC Creao 3D CAD include the following version
---
Rhino
Rhino is a popular CAD software that help you create, edit, analyze, document, render, animate, and create surfaces, solids, point clouds, and polygon meshes.
This software is used in industrial design, marine design, jewelery design, furniture design, mechanical design and many other fields.
You can read more about Rhino here.
---
SketchUp
SketchUp is a free 3D CAD modeler by Google. The core value of this software is that it aims to facilitate and smother the learning curve to the less possible and is attracting a lot of users from this same fact.
You can learn more about SketchUp here.
---
Siemens NX
This next-generation CAD modeling software is built for the manufacturing industry as it helps with modeling and simulating manufacturing processes and equipment. Siemens NX also offers technical support for the building of digital twin models and provides support for product development. This makes it's an excellent CD software for designers, engineers, and manufacturers looking to go-to-market in record time. The features of NX include:
Multiple toolsets for design, manufacturing, Fibersim, and sketching your ideas.
NX offers support for generative engineering through the use of tools that can automate aspects of the design process.
---
SolidWorks
Through the years, SolidWorks has maintained its reputation as one of the best professional-grade CAD software an engineer, designer, or artist could use to create. SolidWorks 2020 teaser video highlights its integration of new features that support the manufacturing industry and aid collaboration across multiple teams.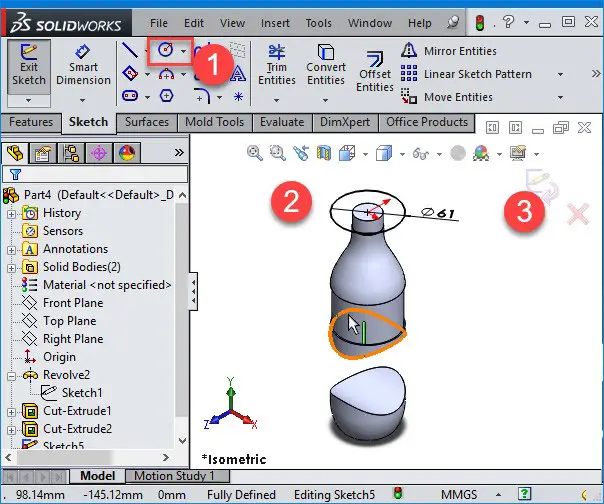 The features of SolidWorks include:
Professional-grade toolsets for connecting design to manufacturing ecosystems thus highlighting its use as a computer-aided manufacturing tool.
SolidWorks offers cloud toolsets to users to enable collaboration across every stage of the production process from design to prototyping.
---
SolidFace
The SolidFace CAD software is built to help you accomplish diverse tasks while handling your primary duty of modeling. The software offers users with collaboration features, documentation tools, parameterization tools, and an extensive 3D part library to aid the drawing, modeling, assembly process. The features of SolidFace include:
Toolsets that guarantee real-time collaboration, design flexibility, and intuitive support for manufacturing initiatives.
SolidFace offers excellent documentation tools such as a bill of materials feature and a manufacturability assessment which enables manufacturers to take products to the market quicker.
---
SolidEdge
This CAD software offers multiple product development features for CAD users within the engineering and manufacturing industry. Its suite of tools supports simulation and manufacturing initiatives at a professional level. SolidEdge has also grown in popularity due to the ease of use features it offers and its intuitive user interface.
The software comes with tools that enable product conceptualization and prototyping. It also provides support for computer-aided manufacturing.
Solid Edge also integrates features to support data management, documentation, and additive manufacturing.
New features for SolidEdge 2020 include support for augmented reality, generative design, and expanded validation tools.
---
Ansys Space Claim
Ansys CAD offering is geared towards engineers and manufacturers looking to solve design problems. The CAD software provides its users with features to manage reverse engineering initiatives, support additive manufacturing, and handle simulation tasks. Using these features, you can edit older imports, and create new models. The features of this software include:
Toolsets that support the intuitive manipulation of geometries which simplifies the learning curve and guarantees ease of use.
Space Claim is cloud-based CAD software which means no installation is required and it leverages the large computing resources the cloud offers. 
---
SurfCAM
What this software intends to accomplish is in its name. SurfCAM is built for manufacturers to aid their product development and testing initiatives. The CAM software is designed especially for users of CNC machines when manufacturing products. The software offers toolsets for milling, turning, part modeling, and inspection of 3D models. The features of SurfCAM includes:
Toolsets for 3D modeling, milling, and turning. This is a comprehensive CAM application that can be used for designing.
It comes with an intuitive user interface that simplifies the process of using its tools. Users can choose to import CAD files onto their workspace for editing tasks.
It supports the design of complex products and parts with 2 or 4 axes.
---
Evolve
Altair Evolve is an intuitive 3D modeling software that provides engineers with the tools needed to create engineering models with ease. The software runs on both Windows and Mac operating systems and its features include:
Parametric modeling tools to ease your creation task. It also provides its users with planar and symmetry tools, and rounded polyline tools.
The software comes with a rounded depth channel when rendering images to produce accurate depth of fields within models.
---
TinkerCAD
Autodesk TinkerCAD is another offering from its family of CAD applications. This CAD software is built for sketching, editing, and viewing 3D models. In its earlier days, it was a skeletal version of AutoDesk's other options but today, TinkerCAD is a complete 3D modeling software in its open right.
TinkerCAD supports the use of codes or command lines to create 3D models. The software also provides drag and drop features to simplify your modeling task.
TinkerCAD supports the export of CAD files in different formats and the editing of them on its user interface.
---
T Flex CAD
T Flex CAD is a product development and data management software designed for the manufacturing industry. The application offers parametric modeling features, and animating features for engineers and industrial designers.
T Flex offers engineers with multiple collaboration and project management tools to ease the management of manufacturing shop floors.
T Flex also offers complimentary solutions that take advantage of virtual reality, documentation, and design analysis.
---
TurboCAD
This app is another CAD option that can be used on both Windows and Mac operating systems. TurboCAD has built a reputation for itself as a design tool with diverse toolsets to simplify the design process.
Its toolsets support the 2D drafting process, modeling, and animation.
TurboCAD also comes with supporting suites for floor planning and project management.
---
ZW3D
ZW3D is a professional-grade software that offers CAD and CAM features. This means both industrial designers, and engineers, as well as manufacturers, can take advantage of the features it offers.
You can choose to use its mechanical design tools to create mechanical products and analyze them.
ZWCAD also offers users with a CAD viewer which allows you to view 3D CAD files in different formats.
---
PunchCAD
This versatile software is built for anyone interested in 3D modeling or creating with CAD software. Its toolsets also support additive manufacturing, woodworking, and other creative tasks. The features of PunchCAD include:
Drawing and editing toolsets for 2D drafting and precision drafting tools.
Solid modeling tool s for 3D modeling and animation projects.